1400.
The Original. 40 miljoen keer wereldwijd verkocht


DIAMOND BLADE included.
Knipwijdte 46.
Kniplengte 0,7 – 3.

Super stil!

Krachtige pivot motor.

STAR BLADE:
Precisie geslepen, hoogwaardig stalen vol metalen snijmes "Made in Germany".

VARIABLE:
MultiClick® kniplengte verstelling in 5 vast te zetten posities van 0.7 – 3.
STRONG:
Nieuwe, stille en krachtige pivot motor met 50% meer vermogen.

INCLUSIVE:
1 variabele opzetkam 4 - 18., reinigingsborstel en olie

Verkrijgbaar in Zwarte of Witte uitvoering!
Bezoek voor meer informatie onze pagina www.moser-1400.de

Product video
Bekijk de produkt video hier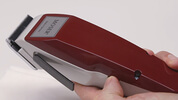 Blade Care and Change:
Een goed geoliede machine loopt beter. Deze instructies laten zien hoe u het snijmes kunt onderhouden en reinigen.
Technical data
Variants

#f5f5f5

1400 White |

Art. No.: 1400-0268

|

EAN: 4015110000105

#000000

1400 Classic |

Art. No.: 1400-0457

|

EAN: 4015110001270
Article number

1400-0457

EAN

4015110001270

Type

Professional cord/cordless hair clipper

Operating voltage

Max. 10 W / 230V, 50 Hz

Cable

2 m

Length

175

mm

Width

69

mm

Depth

55

mm

Weight

ca. 520 g

Blade set

Star Blade

Top blade width

46

mm

Cutting length

0.7 - 3 mm

Type of operation

mains

Drive

oscillating armature motor, approx. 6000 rpm
Accessories